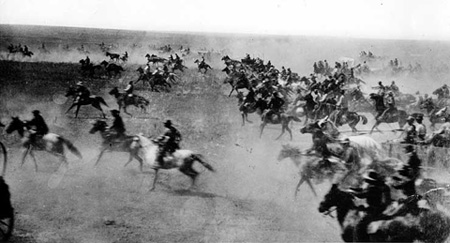 One fine day, all this will be yours. (Bjørvika Landrush)
'Arriving at Central Station and stepping out…
one Holy cat, this is a big town. How many people do you think?
two 10,12 thousand…
one Shocked. What?!
two Yeah.
one Can't figure out folks would do it unless they don't know any better, huh?
two I don't like livin' on an ant's hill.
one Haha. Me neither.
two With sinister amusement. Look at them. Like bees swarmin'.
Never seen so many folks hoppin' up and down the streets.'
(From Dellbrügge & de Moll: 'One fine day, all this will be yours. Libretto.' 2010.)


8 April / 23 April / 30 April
One fine day, all this will be yours
Dellbrügge & de Moll
When: One evening only, April 23 from 18:00 - 20:00
Location: At the first balcony, Den Norske Opera og Ballet, Bjørvika
Contact: info(at)commonlands.net
As a second stage of their project One fine day, all this will be yours. Dellbrügge & de Moll publish a libretto, staging agonistic encounters on common lands. Far from constructing a consistent whole Dellbrügge & de Moll keep adding layers: The west onto the north, the concept of private property onto the idea of common land, and the medium of film onto the medium of opera. By employing the Situationist technique of superimposing a map of one context onto another, the libretto borrows dialogs from Western movies to address issues at stake in Bjørvika. The libretto, which will be handed over as a present, challenges the visitors to become agents and enact the scenarios of conflicts over land use and participation.
The Libretto is the second part of One fine day, all this will be yours, an intervention in Bjørvika, September 2009.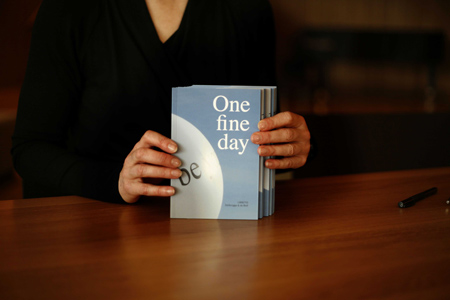 Dellbrügge & de Moll: One fine day, all this will be yours. Libretto. 64 pages, 21 illustrations in color, texts in English. Berlin/Oslo 2010
From Dellbrügge & de Moll: 'One fine day, all this will be yours. Libretto :
'STAGING AGONISTIC ENCOUNTERS
Now what about this libretto? Does it presume to give logos to those
who lack their text? First of all let's get down to the basics. A libretto
is a booklet, the diminutive of the Italian word for book, libro.
Furthermore a libretto is the text of an opera, or other kind of musical
theatre. It contains all the lines and stage directions. To facilitate a
musical transcription of the text, the plot often simplified.
Sophisticated characters are reduced to specimen, complicated processes
of decision making to atmospheres, and tirades to buzz words. This
reduction allows for decelerating time up to a standstill. Moods and
emotions are thoroughly savored. Instead of proceeding linearly the
action jumps from one affective situation to the next, using loops and
repetitions.
These systemic structures figure in our project. Of course we do
not use the libretto in its original assignment, which is to be read
along while actors on stage perform the work. We give it to you as a
present, and a present, as Pierre Bourdieu has pointed out, is either
an insult or a challenge—in any case it sets off communication. We
challenge you to put this libretto to practice and translate it into ac-
tion. Forget about the stage, sophisticated lighting, or the orchestra-
pit. Never mind the roles of directors and actors, let alone the audi-
ence. This is about agents only.
This libretto offers scenarios of conflicts over land use and prop-
erty. The issue is as old as the hills and spares us the need of fabri-
cating stories. Instead we borrow from western movies and operate
with their dialogs, employing a situationist technique of superimpos-
ing a map of one context onto another—like crossing the alps with
a London street map. Far from constructing a consistent whole we
keep adding layers: The west upon the north, the concept of private
property onto the idea of common land, the medium of film onto the
medium of opera.'
...
'We suggest to use the seven Commons of Bjørvika as a set for action.
Feel free to add booze, guitars and guns ad libitum. Improvise fights.
Team up with pals. Make use of atmospheres—the gleaming sun at noon
or a starry sky at night. Give voice to dissatisfaction, disappointments
and doubts, to dreams and aspirations as you act out quarrels over land
and participation, dramas over right and wrong.'
...
'Station Common
The Station Common is the most central urban space in Bjørvika. It will open
up to the existing urban areas at the rear and provide attractive access towards
the south over the railway lines and through the new development. The common
will also provide secondary pedestrian access to Oslo S, the underground lines
and the bus network. It will provide public-oriented functions.*
one Here they are. Even got here with their damn rails.
two They caught up with us again, eh?
one Let's go!
Pick a spot that suits you best on a construction site at the station.
Assemble six people to perform the following scene.
one Hey! There's a square staked out here. It says 'water tank'.
two Over here, too. Only, it say 'post office'.
three And this one says 'corral'.
four And this here 'church'.
five What the hell is this?
six Can't you see? It's a station. And all around it, a town.
five Hahaha! Was he crazy?
six Yeah, in a very special way. He knew sooner or later that railroad
would continue on west. So he looked over all this country out
here until he found this hunk of desert. Nobody wanted it. But he
bought it. Then he tightened his belt, and for years, he waited.
five Waited, for what?
six For the railroad to reach this point.
five But how the hell could he be sure the railroad would pass
through his property?
six Them steam engines can't roll without water. And the only
water for miles is right here. Under this land.
five U-hu! He was no fool, our dead friend. He was going to sell this
piece of desert for its weight in gold.
six You don't sell the dream of a lifetime. He waited this station.
He got the rights to build it.
five How do you know all this?
six I saw a document. It was all in order. Seals, signatures, every-
thing. One thing, though. In very small print, there is a short
clause, which says, that he or his heirs lose all rights if, by the
time the railroad reaches this point, the station ain't built yet.
five Speaking of railroads, I noticed the rail gang's already behind
those hills. And before you know it, they're gonna be here.
six Yeah.
five Yeah. Listen. With a town built around a railroad… you could
make a fortune. Hundreds of thousands of dollars. Hey, more
than that. Thousands of thousands.
six They call them millions.
five Millions? Huh.
six Yeah, millions.
five It would be nice to see this town grow. I gotta go now.
Gonna be a beautiful town.
one I hope you'll come back someday.
five Someday…
Squatting on the front steps of the station watching the travellers pour
into the city you could speak this dialogue with a friend.
one Point at people with a nod of the head. What are they doin'?
two They're just comin' to look around the town. I don't think they
like what they see.
one Will they make a war?
two No, they're just hunting. When they make a war, they paint
their faces. Then you know they're hunting you.
one What will we do if they come with paint on?
two We'll fight 'em. We cleared this land. It's ours, so we're gonna
stay on it, or under it. Come on.
one You're not afraid of anything, are you?
two Not with you.
Departure scene at the station for two protagonists.
one Honey, come here. Let's go for an allotment of that land.
This is the biggest thing in the history of the country.
two Leave here?
one Sell out what we have, at a profit, and go for a town site this time!
two Give up all we've worked and slaved for?
one Let's get out of all this. Gesture around you. Don't you realize,
sugar? This is a new empire. Why, we'll see it grow before our
very eyes into a new state. Don't you realize that this is a new
empire? Why, folks, there's never been anything like it since
Creation. Creation? Ha! That took six days, this was done in
one. History made in an hour. It's like a miracle from Old
Testament.
two Don't be blasphemic.
one A miracle from Old Testament! Cities of ten thousands, spring-
ing out overnight. Well, I'm going. I'm going and help build
a new state out of the last frontier of the nation and it'll be a
state someday, mark my words. We're going into new things,
pet. A new empire and I want to help build it for you.
And we'll have just the prettiest little house we can find, too.
two With flowers and things.
one With flowers and trees and morning glories growing all over.
It'll be our first real home, alone… and I want you to be happy
all the way, sugar.
two Our first real home… alone.
The choir sees what the future holds.
He's gonna be part of the history of the great southwest.
It's men like him that build the world. The rest of them just
come along and live in it.'