8 April / 23 April / 30 April
Speculation
Bik Van der Pol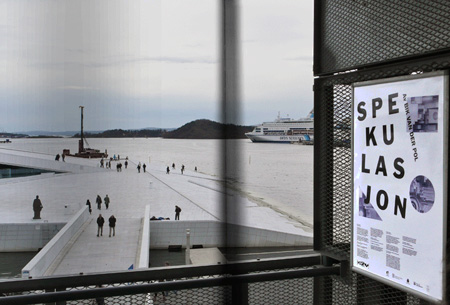 Bik van der Pol's project proposed to speculate on the role of culture in society in the future. They created Speculation: a workshop as a preparation for a soundpiece. A group of specific participants were invited - people not only specialized and engaged with culture, but also engaged with urban, social, financial and economic issues. During a day-long session these fellow speculators formulated ideas, thoughts, and fantasies about the future. What will the Oslo citizen experience on the evening of, lets say, June 21, 2021? Can we think of a reflection of the future? Will culture still exist?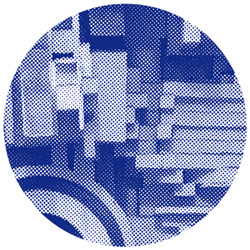 The opera might, by then, still function as opera, but performances are taking place on the big public square: the roof of the building. The Munch museum might have sold all its famous paintings to generate finances to invest in the climate. The library might just move out of its building- to one single room where one main computer streamlines and disseminates digitally all that is ever written all over the world.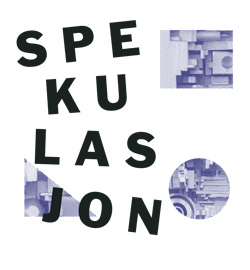 Click on image to download the script UK/NO (PDF)
The script, deriven from the workshop, becomes a soundpiece, performed by two actors. Both voices - a male and a female- are amplified on the intensely used pedestrian bridge to the Opera, connecting Bjørvika with the city center. The script is also disseminated as an insert in the May 1 issue of the newspaper Klassekampen, and as a blogtext on Common Lands webpage. During the opening, the actors improvised live on the script, bringing the debate on public space back into the public realm.
Listen to the soundpiece (in Norwegian only)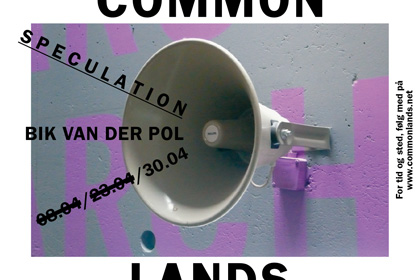 8 April / 23 April / 30 April
Speculation
Bik Van der Pol
Location: on the bridge from Oslo Central Station to the Opera house.
When: Opening at April 30th at 17hrs,
Duration: Speculation will be on view from April 30th – May 12th
Speculation is a project in four parts: a sound installation, performance, a blog and a publication. The publication is distributed with the newspaper Klassekampen as part of their May 1st edition.
We should have asylum seekers; poor people should have flats in the area. This is reclaimed land, where the gypsies, the sailors, the addicts, the whores, the truck-drivers have been. All operate on the outskirts of society. The Opera is taking back this area and is giving it to the bourgeoisie.
We can imagine the uproar. How can we destroy the purity of planning? Can we conceive of another kind of future? Other perspectives? (from the script for 'Speculation')
In November 2009, Bik Van der Pol gathered a group of people in Oslo to speculate with them on the future of Bjørvika. On the Common Lands web-site a blog is available to make the speculation open for influences and rewritings before and after the results of this session will be presented in downtown Oslo.
'Can we think of a reflection of the future? What might be the reflection on cultural, artistic events when Bjørvika will be an active cultural area, the 'place to be'? The opera will function as opera, but performances are mainly are taking place in the open air, on the big public square, the roof of the building. The Munch museum will have sold all its famous paintings to generate finances to invest in the climate. What has the Oslo citizen experienced on the evening of, lets say, June 21, 2021? What play or show has he seen? Will there still be a newspaper where a review will be published? What will be written?' (excerpt from the invitation to the people that took part in the Speculation session, November 2009)