----- For English please scroll down -----
August 22nd - 30th 2009
Institutt for Farge presenterer FJORDBYEN FERIEKOLONI.
i samarbeid med Bjørvika Utvikling og COMMON LANDS - Allmannaretten.
I Fjordbyen feriekoloni danner undersøkelser av utbyggingen og planene for Bjørvika bakteppe for en rekke sommeraktiviteter som fisking, seiltur, leker og diskusjoner som viser et nytt blikk på Bjørvika. Hvilken rolle spiller kunsten i Bjørvika? Vil du tilbringe sommeren i Oslos nye kreative bydel?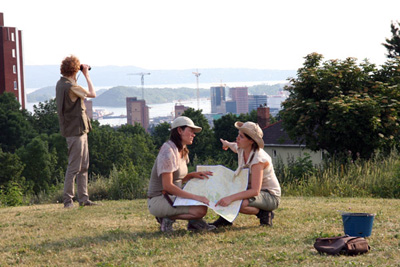 Mandag: Utforskning av Oslos fjordnære bebyggelse.
Monday: Exploring Oslo's fjordside development.
Foto: Pablo Castro / Institutt for Farge
Bjørvika er et av de største byutviklingsprosjektene i Norge noensinne, der Oslos sjøside skal gjøres tilgjengelig for innbyggerne og byen åpnes mot fjorden. Prosjektet COMMON LANDS - Allmannaretten er et temporært utstillingsprosjekt som gjennom seminarer, tekstsamlinger og kunstprosjekter tar byutviklingen i Bjørvika som utgangspunkt. Institutt for Farge er invitert til å gjøre en uke med aktiviteter.
----- English -----
August 24 - 30th
FJORD CITY SUMMER CAMP
Under the heading Fjord City Summer Camp the Institute for Colour presented a series of temporary works from August 24 - 30th, as part of Common Lands in Bjørvika.
The project aimed at producing concrete expressions of different aspects of Common Lands,
and the results were presented to the public on Bjørvika's Open Day, August 30 2009.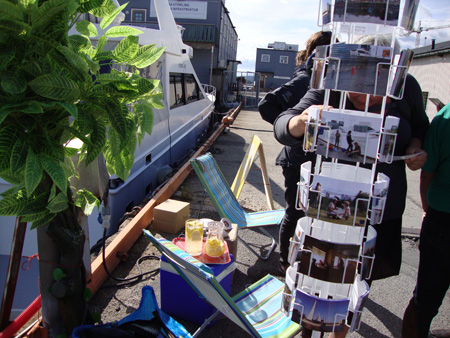 Fjordcity Summercamp offers lemonade, postcards and summer radio.
Chris Evans' video "Company" is in collaboration with Egyptian real estate developer
Walid El Kafrawy, who is describing the planning and building process of a new society
in the desert.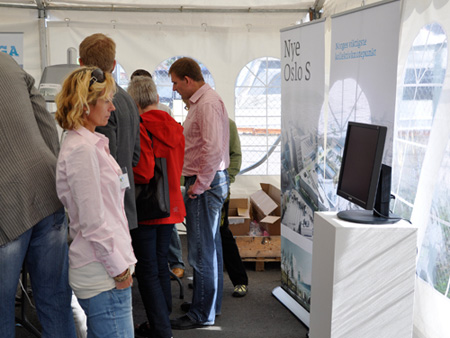 Durin Open Day in Bjørvika, Chris Evans video "Company", was installed
next to the maquette of new Oslo Central Station.
By kind permission from Chris Evans we are pleased to have this
video work available for online-viewing:
(If you use Safari, click
here
to see the video)
Chris Evans, "Company" (video 6:30 min)
VOLUNTARY CHECK by Jumana Manna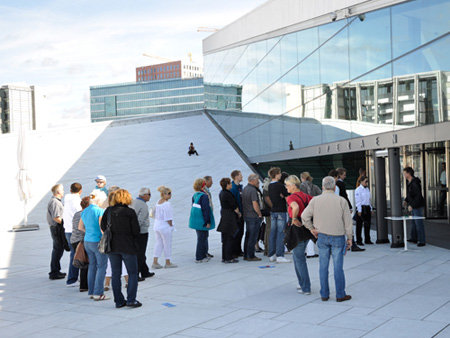 "Voluntary Security Check", an installation by Jumana Manna, two guards with
a metal detector offers visitors of the Operabuilding in Bjørvika to do a voluntary
security check. 6>