----- For English please scroll down ------
Geir Tore Holm and Søssa Jørgensen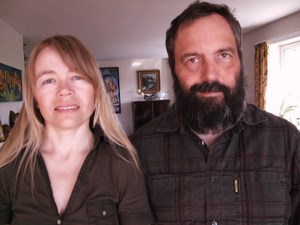 Parallelt til individuelt arbeid som omfatter video, fotografi, skulptur, lydkunst, performance og installasjoner, har Geir Tore Holm og Søssa Jørgensen formidlet, skrevet om og undervist i samtidskunst. Da de i 1993 startet Balkong, med sitt eget hjem som visningssted, ble spørsmål om hva kunst kan være og i hvilke sammenhenger den inngår i sentralt for deres arbeid med kunst som praktisk dialog. De hjemlige erfaringene med kunstpraksis har ført til andre aktiviteter. Sammen med kunstnere fra Thailand etablerte de Sørfinnset skole/ the nord land i 2003, i Gildeskål, Nordland, med fokus på naturbruk, kunnskapsutveksling og småskala arkitektur. De arbeider nå videre i sammenhenger hvor bred estetikk inngår i videre økologisk forståelse av samfunn, menneske og natur. Geir Tore Holm er for tiden stipendiat ved Kunsthøgskolen i Oslo og Søssa Jørgensen masterstudent i landskapsarkitektur ved UMB på Ås. Kunstnerne er bosatt i Skiptvet.
Parallel to individual work that includes video, photography, sculpture, sound art, performance and installations, Geir Tore Holm and Søssa Jørgensen have mediated, written on and been teaching in contemporary art. By initiating Balkong in 1993, using their apartment as exhibition space, they brought up questions about what art can be. The contexts of artistic practice and work with art as dialogue in practice has been central issues.
The homebased experiences led to other activities. Together with artists from Thailand they initiated Sørfinnset School/ the nord land (2003 - ) in Gildeskål, Nordland. This ongoing project includes focus on exploitation of nature, exchanging of knowledge and small scale architecture in the field of broad aesthetical understanding of ecological realities of society, man and nature.
Geir Tore Holm (b. Tromsø, 1966) is currently a fellow at National Norwegian Artistic Research Fellowships at Oslo National Academy of the Arts. Søssa Jørgensen (b. Oslo, 1968) is doing an MA in Landscape Architecture at Norwegian University of Life Sciences (UMB) in Ås. The artists are living in Skiptvet.
8 April/23 April/30 April
Vi bor i Bjørvika / Living in Bjørvika
Sted: Brakke på baksiden av Den Norske Opera og Ballett ved den kommende Akerselva-allmenningen.
Vi bor i Bjørvika er en forfølging av målsetningene om en kulturelt og sosialt sammensatt bosetting i den nye bydelen Bjørvika, og Richard Floridas teorier om den kreative klasse og kunstneres betydning for byenes fremtid. Ønsker kunstnere og andre "kreative" miljøer å bosette seg i Bjørvika, og ønsker utbyggerne og eiendomsforvalterne i Bjørvika de kreative menneskene? Hvordan kan det i så fall la seg gjennomføre innenfor rammene av byutviklingsprosjektet?
8 April/23 April/30 April
Living in Bjørvika - Vi bor i Bjørvika
Location: Look for a container behind The Opera House, by Akerselva river, Bjørvika
When: Opening hours from April 9 to April 18th, 12 – 17 pm
The notion of art as dialogue-in-practice has been central to the collaborative work of Holm and Jørgensen. In the project Living in Bjørvika, they investigate Richard Florida's theories of the 'creative class' and the goals of a culturally and socially diverse population for this new urban area of Oslo.
Living in Bjørvika will present models and ideas for possible alternatives to the current plans for the area, with a view to addressing gaps in the projected framework.